Automatic Teaching (i-ART)
Robot System Integrate | Innovative Paint Solutions
What is robot system integration?
Simply collecting together robots, peripheral equipment, and tools does not result in the automation you might expect. Taikisha acts as a robotics system integrator to analyze specific issues for our users, so that we can provide the optimal systems and equipment.
What is innovative paint solutions?
Taikisha supplies innovative technologies for CO2 reduction and the adoption of automation. Our electrostatic automatic painting systems achieve high coating efficiency to greatly reduce CO2. We are also preparing systems to automatically generate teaching programs for 3D scanners to recognize the shapes of the objects being processed so that robots can sand and paint the surfaces. This is perfect for automating the sanding and painting of previously difficult to handle diverse types of products.
Want to lift productivity

Want to heighten equipment efficiency and paint quality

Want to improve labor environments and achieve automation
Overview
i-ART (automatic teaching system) provides high-precision teaching easily and in a short time frame.
Teaching can be automatically created even for complex shapes through a matching system for 3D scanner shape measurement and 2D camera images. It can be adapted for sanding or painting robots.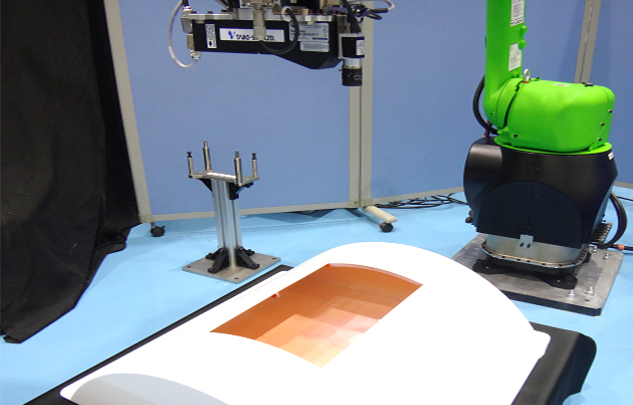 Robots equipped with 3D scanners and 2D cameras can perform scans.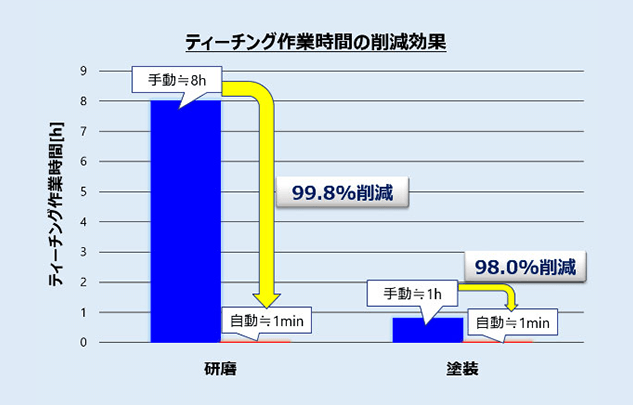 Effect on reducing teaching work times
Features
Teaching can be performed easily with just a single button, allowing teaching programs to be created in a short span of time.

High-precision teaching

Teaching programs are created using high-precision 3D scan data and predetermined algorithms. Therefore consistent highly accurate teaching is enabled.

Teaching work is easy

Teaching work can be an obstacle to overcome when adopting automation. By adopting i-ART, you can make teaching work easy to help encourage the introduction of automation.
Catalog
It is possible to correspond to various robot makers.