i-Navistar
Production Management Systems
What is production management systems?
We offer systems to manage product information, production conditions (equipment, materials, work time, etc.), production timing, cost information, and quality information in an integrated and comprehensive way, to systematically control the process of producing goods.
Want to lift productivity

Want to improve labor environments and achieve automation
Overview
i-Navistar has the following two main functions. Both functions use AI engines with learning functions to perform analytics.
Operations analytics system

The system monitors the operating status of equipment required for production, as well as spare parts and consumables, predicts anomalies before they occur, and activates alarms.

Quality analytics system

The system tracks time-series data on various paint quality inspection and conditions of paint finishing and paint materials in each booth, and visualizes the history of each painted item. In the event that a quality defect occurs, the system performs a defective cause analysis and proposes ways to optimize system conditions.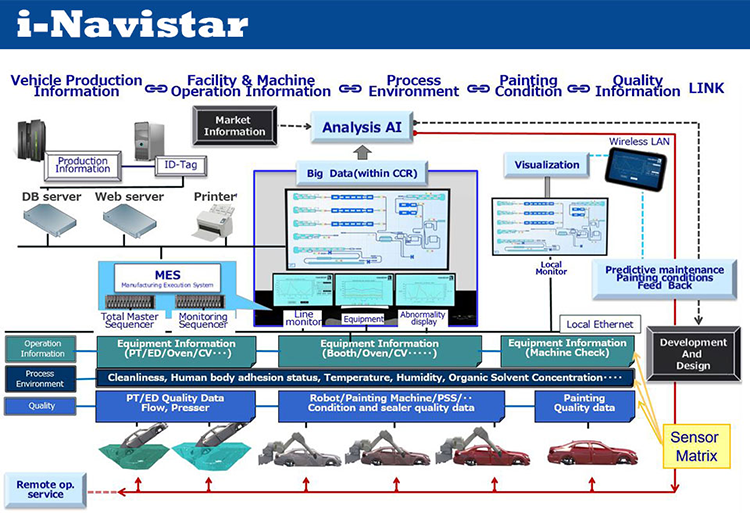 Conceptual Diagram
Features
As specialists in painting plants, we offer comprehensive solutions from items requiring sensing with various equipment, to construction of information analytics systems, and to feedback from paint quality confirmation results on each equipment element.

Our quality analytics are based on a database of what processes individual products are treated with on different equipment.
Introduction Video