Paint Booth Exhaust Recycling System
Paint booth | Energy-saving technology
What is paint booths?
Paint booths apply intermediate and top coat on the object being painted, forming designs, and coating to protect the undercoat from ultraviolet rays and the wind and rain. The large size of these machines emphasizes technologies to make them more compact and save energy with air conditioning controls.
What is energy-saving technology?
Paint booths consume the largest amount of energy among paint processes. Taikisha has developed and delivered many energy-saving HVAC control systems and other systems that save energy like exhaust air recycling ones.
Want to reduce CO2 and enhance energy efficiency
Overview
Our solution is to recycle exhaust from a paint booth and reduce air-conditioning energy consumption.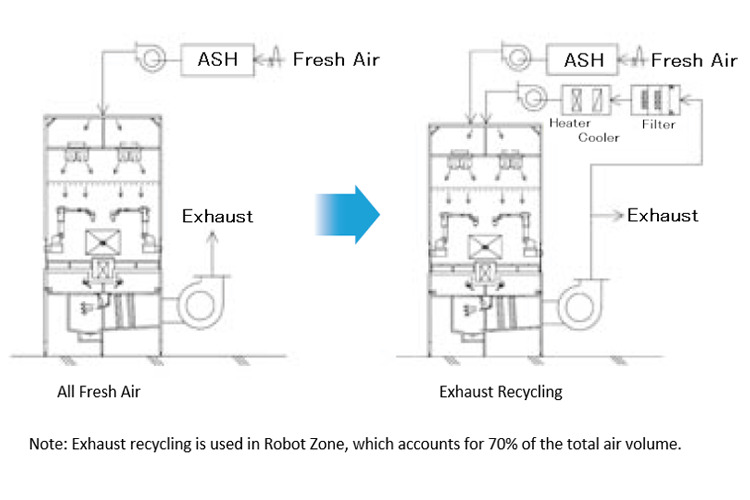 Reduces CO2 by recycling exhaust air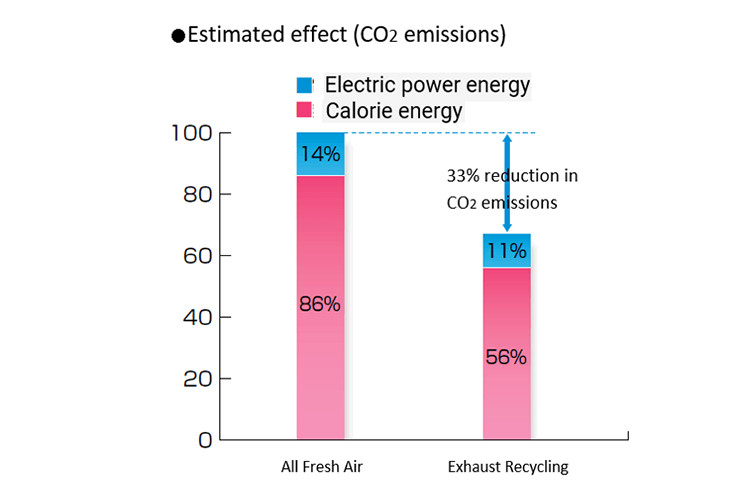 Calculating the effects of reducing CO2 by recycling exhaust air
By introducing heat pumps to the heat source of the recycling HVAC system, we aim to further achieve energy conservation and CO2 reduction.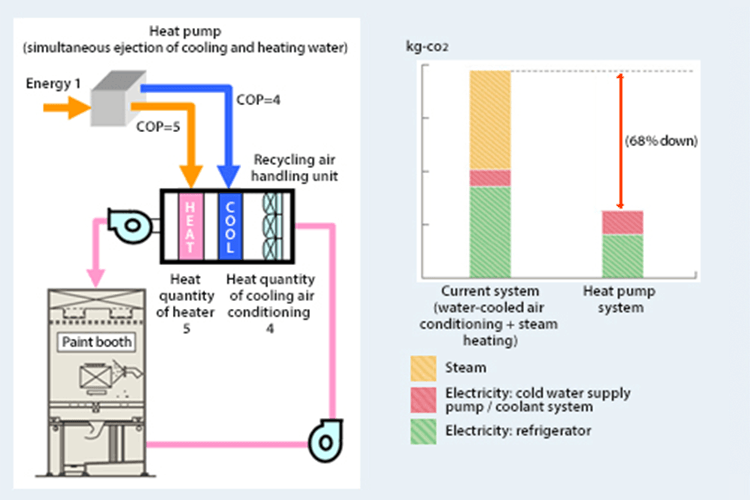 Features
Booth exhaust air can be recycled

Exhaust air from paint booths contains paint solvents, so in the days when painting was primarily hand-blown, all of the air inside the booth would be discharged outside due to the risk of exposing workers to the solvents.
But as booths came to be unmanned with the introduction of painting robots, it became possible to recycle air containing solvents.
However, because booth exhaust air contains overspray paint mist, proper dust removal is essential. We have utilized our extensive experience to introduce highly efficient scrubbers and dust removal systems, to provide booth exhaust air recycling.

Controls temperature and humidity for proper recycling of air-conditioning

In the case of wet paint booths, the exhaust air becomes more humid due to the washing water, requiring dehumidifying (cooler dehumidification and heater reheating). We can provide temperature and humidity controls for proper recycling of air conditioning.
Although this dehumidification requires energy, adopting a dehumidification system that incorporates a heat pump can contribute to further energy savings.