Air Lock Booth
Infection Prevention Technology
What is infection prevention technology?
A negative pressure, air circulation, filtering technology aimed at preventing airborne infections caused by droplet nuclei from sneezes or coughs containing infectious organisms.
This technology drastically reduces the contamination concentration via micro-droplet and droplet nuclei by air-flow control technology.
Want to eliminate harmful substances/viruses

Want to enhance safety and reliability
Overview
Air Lock Booth has acquired a good reputation for being an easy-to-handle booth that faultlessly prevents bacteria from spreading during examination and sputum collection, while blocking intrusion by external bacteria, to prevent mass infection in hospitals.
Air Lock Booth blows in clean air supplied through an antibacterial HEPA filter for both air supply to and exhaust from the booth.
An antibacterial HEPA filter ensures a dust collection efficiency of 99.97% or higher for 0.3 µm particles and is effective also for preventing viruses from spreading during examination of a patient with a viral infection.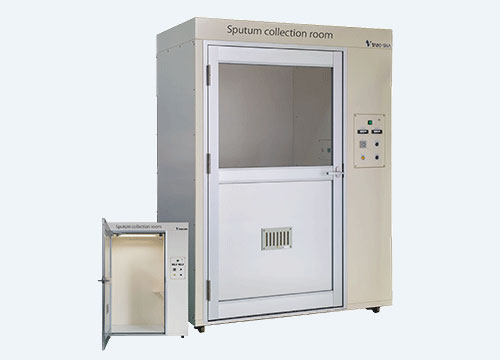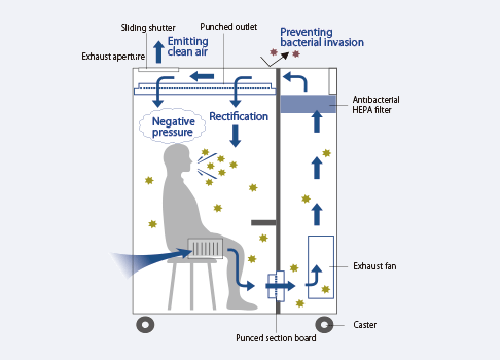 Features
Preventing Bacteria from Intruding and Spreading with the HEPA filter

Using an antibacterial HEPA filter for air supply to and exhaust from the booth
Preventing internal bacteria from spreading outside, while blocking intrusion by external bacteria, enabling highly reliable specimen collection

Highly reliable control of room pressure with blower operation control

Cleaning up the inside of the booth with the blower before entering the room.
Since negative pressure within the booth creates an inflow of outside air while the user is in the room, bacteria are prevented from outside escape.
After sputum collection, the booth moves in to cleanup operation, and then automatically stops the blower.

No Need for Construction, Transportable with an Elevator (Transportable model)

Compactly designed with the dimensions of 1430W x 900D x 2050H and equipped with casters, this booth can be moved between inspection locations even if using such means as an elevator.
The booth operates with a single-phase 100V power supply. It can be installed anywhere in a hospital.
Requiring no installation work and construction for power supply, the transportable model can be used on the day of installation.
A duct is available as an optional attachment. Preventing contamination more reliably.

Support for Various Needs including a Barrier-free Structure and Wheelchair Enterable Model

The transportable and standalone models are available.
The features (external form, door, and the interior and exterior) and size of the booth can be customized based on your requirements.
The booth can eliminate a height gap between the booth entrance and the room floor.
The booth is suited for any type of air conditioning systems, both in new constructions and existing buildings.
Specifications
Standard model
Dust collection efficiency
99.97% or higher on 0.3µm particles
Dust collection element
Prefilter: Antibacterial prefilter
Main filter: Antibacterial HEPA filter
Cleanliness
ISO5 (class 100)
Circulation count
200 times/hr
Treated gas volume
6㎥/min
Exhaust gas volume
2㎥/min
Lighting
LED equivalent to 20W
Structure
Main unit: Made of sheet steel, and polyester powder coating
Floor: SUS304 (Half polished)
Door: Aluminum sash (with door check)
Equipped with casters
Power supply
100VAC, single phase, 50/60Hz
Power consumption
Approx. 250VA
Weight
Approx. 350kg
Option
Germicidal UV lamp
Wheelchair accessible model
Dust collection efficiency
99.97% or higher on 0.3µm particles
Dust collection element
Prefilter: Antibacterial prefilter
Main filter: Antibacterial HEPA filter
Cleanliness
ISO5 (class 100)
Circulation count
200 times/hr
Treated gas volume
9.6㎥/min
Exhaust gas volume
2㎥/min
Lighting
LED equivalent to 20W
Structure
Main unit: Made of sheet steel, and polyester powder coating
Floor: none
Door: Aluminum sash (with door check)
Equipped with casters
Power supply
100VAC, single phase, 50/60Hz
Power consumption
Approx. 250VA
Weight
Approx. 400kg
Option
Germicidal UV lamp