Engine Intake System
Environmental Testing Equipment | Temperature And Humidity Control Technology
What is environmental testing equipment?
Taikisha provides high-quality and compact equipment for high-precision environmental testing system with energy-saving based on our abundant experience.
What is temperature and humidity control technology?
You can ensure product's quality and overall performance by thermal testing under operational environment. Control techniques for adjusting temperature and humidity to set point are necessary to reproduce the required environment.
Want to reduce CO2 and enhance energy efficiency

Want monitoring and control
Overview
This system supplies air to engines at a constant temperature and humidity during an engine unit test.
Features
Control accuracy of ±0.5°C
Non-stop and single-step operation in flexible response to cooling loads in the range of 0 to 100%
Cooling and re-heating with the high-temperature refrigerant at the outlet of the compressor as a heating source.
Higher COP than the cooled-water type (annual power consumption reduced 30%)
Compact type integrating a freezer, HVAC, and control panel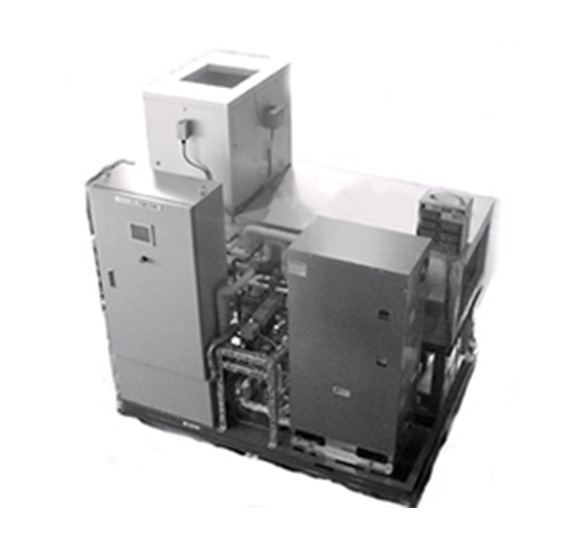 External appearance of air-intake device for engine testing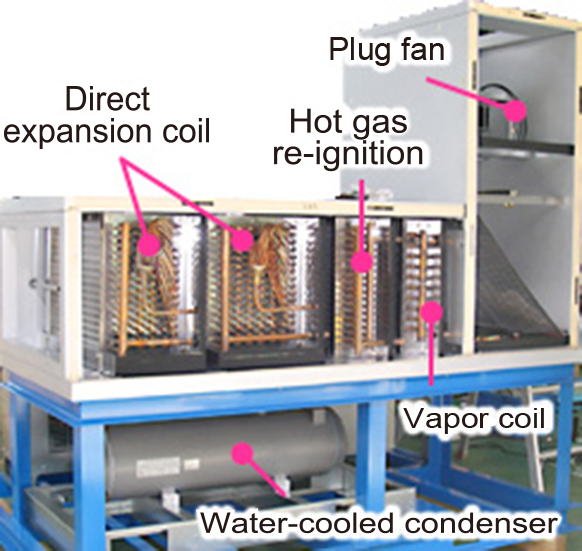 Configuration of the intake system for the engine test
Specifications
Basic specifications
| | |
| --- | --- |
| Temperature range | 15 to 30°C ± 0.5°C |
| Humidity range | 55%RH ± 5%RH |
| Supply air flow | 400 to 1,200 ㎥/h |
| Dimensions | 2,100 mm (W) x 16,000 mm (L) x 1,950 mm (D) |