Mono-Track Conveyor (Overhead-type Conveyor)
Conveyor System | Undercoating overhead conveyors
What is our conveyor systems?
The conveyor system in the painting factory is an automatic transportation system that is involved in the entire process from receiving the car body from the welding factory, passing through the painting process, and handing over the car body to the assembly factory. Taikisha supports various transportation systems, from the hanger / trolley method that has been used in Japan for a long time to the skid method that is mainly used in Europe. In addition, it can be used not only for automobile bodies but also for painting systems for plastic parts.
What is undercoating overhead conveyors?
Overhead conveyor is used in the undercoat process.
Want to lift productivity

Want to reduce CO2 and enhance energy efficiency

Want to make the best use of limited spaces

Want to improve labor environments and achieve automation
Overview
This conveyor is a hanger type overhead conveyor applied to the undercoat process. It is a friction type transport and is a tact type (continuous type is also possible). It can also be used in robot processes. Both fixed and openable hangers are available.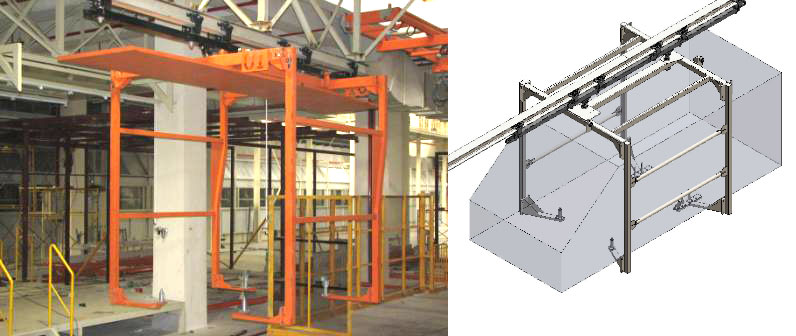 Hanger (Ficed type)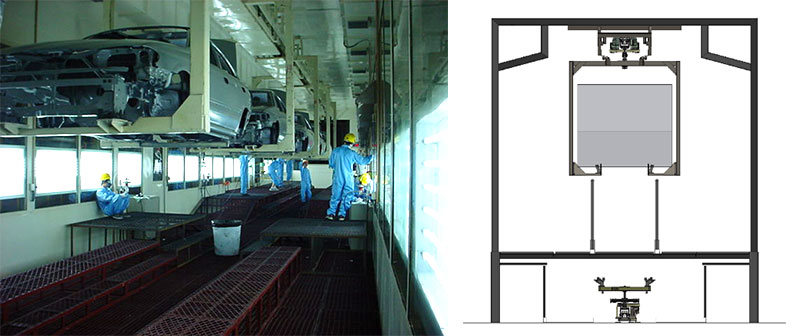 Inside the process
Features
Using a friction system allows high-speed movement. Low-speed continuous movement is also possible.

The friction system can increase energy efficiency by operating only when the hanger is detected.

The line makes it possible to save space because it combines lifting and transport.

Adopting a friction system can reduce the noise of operation.