E-DIP®
Conveyor System | Pretreatment/electrodeposition rotating conveyors
What is our conveyor systems?
The conveyor system in the painting factory is an automatic transportation system that is involved in the entire process from receiving the car body from the welding factory, passing through the painting process, and handing over the car body to the assembly factory. Taikisha supports various transportation systems, from the hanger / trolley method that has been used in Japan for a long time to the skid method that is mainly used in Europe. In addition, it can be used not only for automobile bodies but also for painting systems for plastic parts.
What is pretreatment/electrodeposition rotating conveyors?
The pretreatment and electrodeposition process is the first process in a painting factory. Rotaing conveyor is used in the process. These conveyor systems can rotate the car body during the treatment process, and are classified according to their abilities and rotation angles.
Want to lift productivity

Want to reduce CO2 and enhance energy efficiency

Want to make the best use of limited spaces

Want to improve labor environments and achieve automation
Overview
E-DIP® is a conveyor for automobile line pretreatment and electrodeposition equipment. E-DIP® is a self-propelled carrier that travels on the side of the device to lift and transport the automobile body. In the standard design, it has a lift of 4m up and down and can tilt the automobile body by ± 70 degrees..
Features
Reducing the line length

Shortening the system length by changing the degree of steepness at which an item enters and exits the tank
Saving space by eliminating the escape line

Minimizing liquids removed and air pockets

Reducing the liquids removed through the flexible setting of the in/out and the rotation angles in the tank for each car model (8L/body 5L/body)
Enhancing rust prevention by minimizing air pockets

Providing faster treatment

Reducing the treatment time through model-specific process paths, process selections between showering and dipping, and variable-pitch transport
Reducing the treating time with a variable-pitch transport that has been unavailable with traditional systems

Preventing defectives due to grit and dust

Removing conveyor rails from over the tank to prevent defectives due to grit and dust falling from the rails

Reducing the overall initial and running costs of a system
Installation Illustration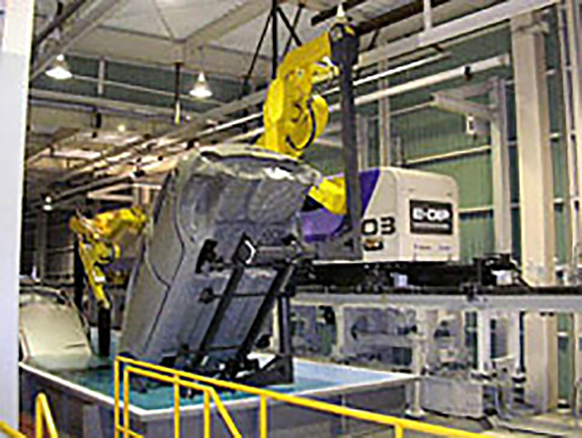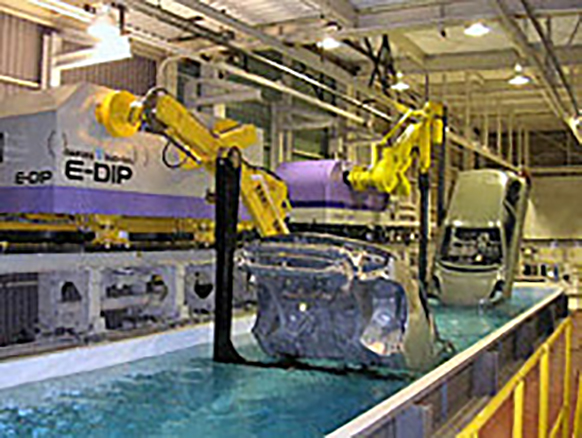 The No. 1 unit has been introduced in Mitsubishi Motors.
introduction Video
Watch a video that demonstrates how E-DIP® operates.