i-DOT
Robot System Integrate | Innovative Paint Solutions
What is robot system integration?
Simply collecting together robots, peripheral equipment, and tools does not result in the automation you might expect. Taikisha acts as a robotics system integrator to analyze specific issues for our users, so that we can provide the optimal systems and equipment.
What is innovative paint solutions?
Taikisha supplies innovative technologies for CO2 reduction and the adoption of automation. Our electrostatic automatic painting systems achieve high coating efficiency to greatly reduce CO2. We are also preparing systems to automatically generate teaching programs for 3D scanners to recognize the shapes of the objects being processed so that robots can sand and paint the surfaces. This is perfect for automating the sanding and painting of previously difficult to handle diverse types of products.
Want to lift productivity

Want to reduce CO2 and enhance energy efficiency

Want to heighten equipment efficiency and paint quality

Want to improve labor environments and achieve automation
Overview
Taikisha supplies paint finishing systems that can draw letters and graphics through controlled particle-by-particle discharge of paint particles. As letters and graphic are drawn there is no scattering of paint mist and lines are clearly demarcated, so masking is not needed. Masking-less painting can be done on curved, solid, or perpendicular surfaces, and even directed upward.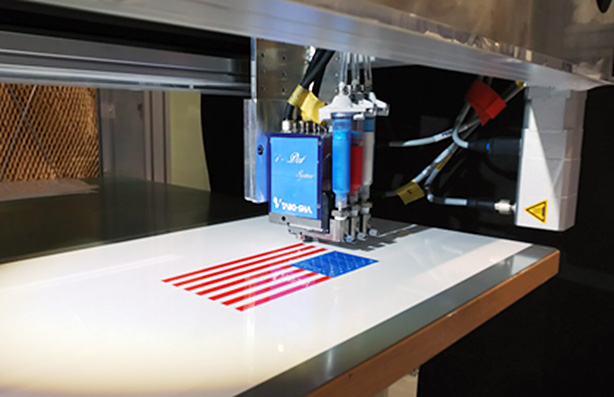 Printing can be achieved painting three colors at one time
This video shows how drawing with i-DOT works.
Printing can be done with paint on perpendicular surfaces
Features
Masking-less painting means there is no need for the masking process