i-DOT
Robot System Integrate | Innovative Paint Solutions
What is robot system integration?
Simply collecting together robots, peripheral equipment, and tools does not result in the automation you might expect. Taikisha acts as a robotics system integrator to analyze specific issues for our users, so that we can provide the optimal systems and equipment.
What is innovative paint solutions?
Taikisha supplies innovative technologies for CO2 reduction and the adoption of automation. Our electrostatic automatic painting systems achieve high coating efficiency to greatly reduce CO2. We are also preparing systems to automatically generate teaching programs for 3D scanners to recognize the shapes of the objects being processed so that robots can sand and paint the surfaces. This is perfect for automating the sanding and painting of previously difficult to handle diverse types of products.
Want to lift productivity

Want to reduce CO2 and enhance energy efficiency

Want to heighten equipment efficiency and paint quality

Want to improve labor environments and achieve automation
Overview
We are focusing on inkjet technology as one of the decoration technologies. It is developed as a system that can be decorated on the layer of the dry paint. We provide high-definition decoration by using ink that adheres to the dry paint film and industrial inkjet heads.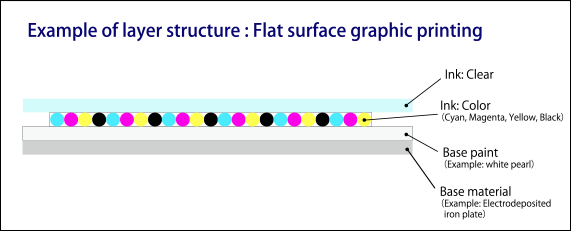 Example of layer structure combining the dry paint film and ink.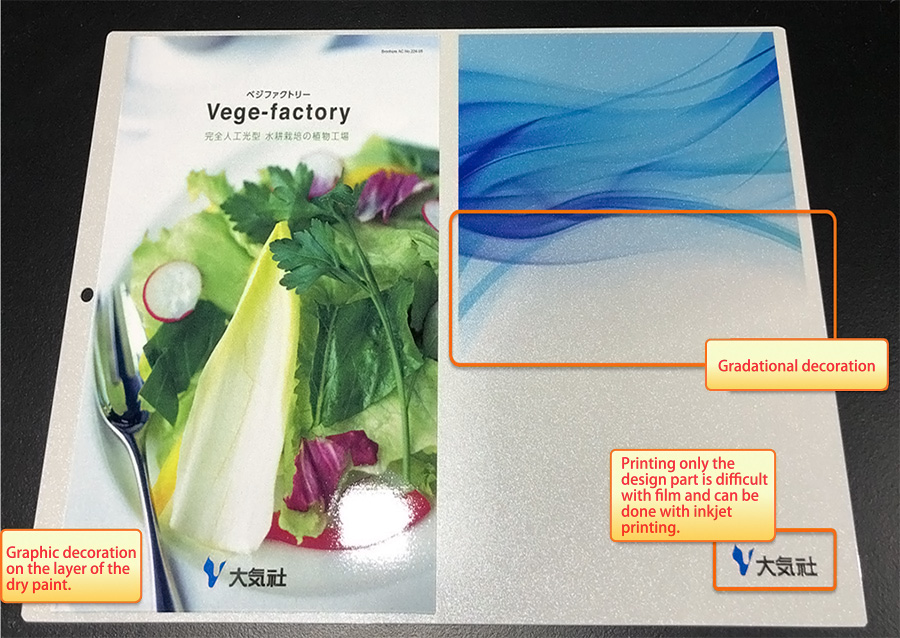 Example of inkjet printing on the layer of the dry paint.
Features
Decoration can be printed directly on the layer of the dry paint.

The inkjet technology offers the following benefits:

Increased product value

It is possible to correspond to various designs.

Improving productivity

The system can provide what you want as much as you want whenever you want, on demand.
The system can print decoration directly on molded products.

→The system frees you from the outsourcing of films and transcripts and inventory control. →The system frees you from masking operations. →Waste can be reduced.

A visual and tactile sensation is imparted by using inkjet technology in three-dimensions.

With the advanced inkjet technology, the system can perform not only flat surface printing (graphic printing) but also three-dimensional decoration printing with asperities.

Design examples

Woodgrain finish
Hairline finish
Carbon finish
Grain finish
Lenticular

Large-size printing sample(Woodgrain finish, etc.)

Three-dimensional decoration sample(Carbon finish)